WHY EVERY YOUTUBER, MAKEUP ARTIST AND PHOTOGRPAHER NEEDS A RING LIGHT
Posted on February 08 2018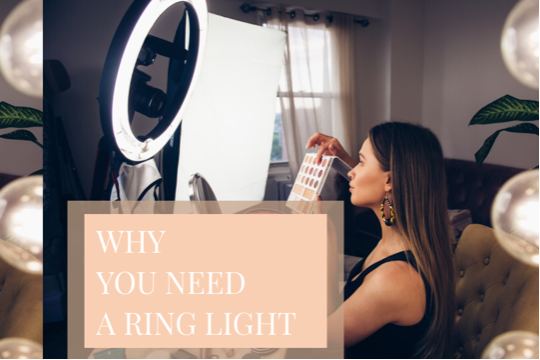 Take your Photography + Videography to the next level with a LED Photo Ring Light.
Do you ever wonder what techniques photographers use to create a flawless, beautiful photos? Or how makeup artists on YouTube create such a perfect complexions during their tutorials?
The 18 inch LED ring lighting kit is a must have if you are passionate about the quality of your photos and videos! YouTubers, Makeup Artists and Photographers in 2018 are creating some amazing effects shooting still photography and videography using ring lighting kits.

Image – Kimbyrleigha
Photo Video Studio - 18" LED Ring Light
As a photographer this can benefit you in many ways. Ring lighting is an inexpensive way to create more professional content for your clients.
Ring lighting not only creates an ascetic vivid photo - but it also removes hard shadows from the background to create a flawless image every time.
"This is the single most important piece of lighting equipment I use for my beauty bloggers on Youtube" – Jen Ruhman
Jen herself is a makeup artist and beauty guru who loves using ring lights in her lighting setup.
A great quality ring light is the 18 inch LED ring light from Photo Video Studio. With adjustable brightness and color temperature it will meet all your shooting requirements! Photo Video Studio is an affordable option when looking for quality lighting kits and accessories.
Creating stunning content where ever you are is made easy with ring lighting. Take your photography and videography to the next level with one today!
Stay Creative,
Alexa
Photovideostudio.co